KOKON IS A LUXURY HAND DYED YARN BRAND EXCLUSIVELY BROUGHT TO YOU BY SCAAPI. SCAAPI STRIVES TO BRING YOU UNIQUE, BEAUTIFUL YARNS THAT HAVE BEEN ETHICALLY PRODUCED WITH CONSIDERATION AND RESPECT FOR FELLOW MAN, ANIMALS AND THE ENVIRONMENT.
THE CURRENT KOKON COLLECTION CONSISTS OUT OF THREE YARN TYPES. A LACE AND WORSTED 100% BABY ALPACA YARN AND A DK PIMA COTTON SILK BLEND YARN. FOR MORE INFORMATION ON THE ORIGIN, HISTORY AND PRODUCTION PROCESS OF THE FIBRES USED FOR KOKON PLEASE SEE BELOW.
THE HISTORY OF THE ALPACA OF PERU
THE NATURAL HABITAT OF THE ALPACA CAN BE FOUND IN THE ANDES MOUNTAIN RANGE OF SOUTH AMERICA. THE ANCIENT GUANACO HUNTERS OF PERU SUCEEDED IN SUCCESSFULLY BREEDING AND DOMESTICATING THE ALPACA. THE INCA CIVILIZATION TREASURED ALPACAS AND THEY FORMED AN INTEGRAL PART OF EVERYDAY LIFE IN THE ANDEAN REGION. THE ALPACA'S FINEST FIBERS WERE CONSIDERED TO BE OF SUCH VALUE THAT THEY WERE ONLY USED BY INCA ROYALTY.
THE JOURNEY OF ALPACA FIBER
ALPACAS ARE BRED AT ALTITUDES RANGING FROM 3000-4.500 M ABOVE SEA LEVEL WHERE TEMPERATURES FLUCTUATE BETWEEN 20 AND 30 DEGREES IN ONE DAY. A FEMALE ALPACA GIVES BIRTH ONCE A YEAR IN THE SPRING FROM OCTOBER TO JANUARY (SPRING TIME IN THE SOUTHERN HEMISPHERE) DURING THIS PERIOD AT THE BEGINNING OF THE RAINY SEASON GRASS AND WATER ARE ABUNDANT. THE BABY ALPACA LIVES WITH IT'S MOTHER FOR THE FIRST 10 MONTHS OF IT'S LIFE. AT THE AGE OF 1 YEAR THE BABY ALPACA IS SHEARED FOR THE FIRST TIME. IN THIS FIRST SHEARING THE FIBER OF THE ALPACA IS EXTREMELY FINE THUS THE NAME BABY ALPACA FIBER REFERS TO THE FINEST GRADE OF ALPACA FIBER. KOKON LACE AND WORSTED YARNS ARE EXCLUSIVELY MADE FROM 100% BABY ALPACA FIBRE.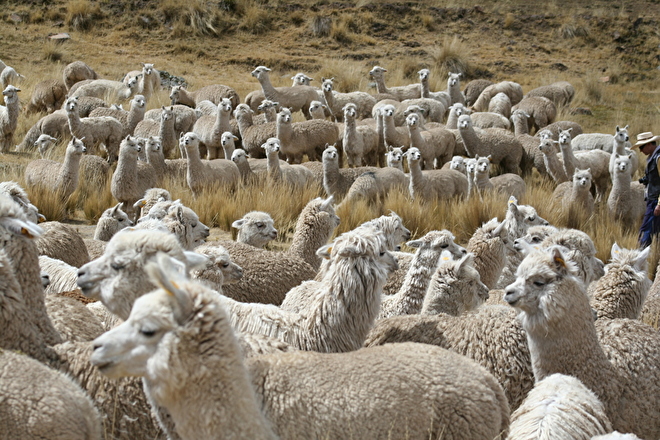 PROPERTIES OF THE ALPACA FIBER:
ALPACA IS CONSIDERED A LUXURY FIBER AND CAN BE COMPARED WITH OTHER FINE FIBERS LIKE CASHMERE AND PASHMINA. ALPACA IS SMOOTH, VELVETY, VERY LIGHT WEIGHT, SOFT AND DURABLE. 100% PURE ALPACA WOOL IS ABSOLUTELY THERMAL DUE TO IT'S HOLLOW FIBER AND MICROSCOPIC POCKETS. THIS ALLOWS FOR WARMTH IN WINTER AND BREATHABILITY IN SUMMER. ALPACA FIBER IS ALSO DUST AND WATER REPELLANT.
ENVIRONMENTALLY FRIENDLY ALPACA
ALPACA IS ONE OF THE MOST ENVIRONMENTALLY FRIENDLY FIBERS TO PRODUCE. ALPACA'S ARE RAISED IN THE ANDEAN HIGHLANDS AT AN ALTITUDE WHERE THERE IS NO USAGE OR PRESENCE OF INSECTICIDES OR HERBICIDES. THE HIGHLANDS PROVIDE A LOW-PROTEIN DIET BASED ON NATURAL GRASSES THAT ARE ESSENTIAL FOR QUALITY ALPACA FLEECE. THE FOOT ANATOMY OF AN ALPACA IS SUCH THAT AN ALPACA DISRUPTS FAR LESS SOIL THAN OTHER GRAZERS AND THEREFORE CREATES LESS GROUND EROSION.
SUPERWASH
THERE IS NO SUPERWASH TREATMENT ON ALPACA FIBER. FOR CARE INSTRUCTIONS HAND WASHING IS RECOMMENDED TO AVOID SHRINKAGE.
PERUVIAN PIMA COTTON
FOR THE PAST 4500 YEARS THE COTTON PLANT HAS FORMED A PART OF THE LANDSCAPE IN THE VALLEYS OF PIURA AND CHIRA, AS WELL AS OTHER PARTS OF THE PERUVIAN COAST. PERUVIAN PIMA COTTON (GOSSYPIUM BARBADENSE), IS LUSTRUOUS, STRONG AND SOFT TO HANDLE. THESE CHARACTERISTICS ARE OBTAINED THROUGH A RIGOROUS SELECTION OF SEEDS, SOWING IN THE APPROPRIATE AREAS, WELL CONTROLLED IRRIGATION AND THE BLESSING OF PERUVIAN SUNSHINE. PIMA COTTON IS CAREFULLY HAND PICKED, FORGOING HERBICIDES, SO THAT THE BEST MATERIAL IS SELECTED AND ANYTHING UNWANTED CAN BE SEPARATED WITHOUT DAMAGING THE DELICATE FIBERS.
DYE PROCESS
KOKON YARN IS EXCLUSIVELY DYED BY HAND FOR SCAAPI IN PERU BY A FAIR TRADE CERTIFIED DYE HOUSE. THE HAND PAINTING PROCESS IS VERY CAREFULLY DONE BY AN ALL WOMAN TEAM OF DYE SPECIALISTS. ONLY OEKOTEX APPROVED AZO FREE DYES ARE USED. DUE TO THE FACT THAT THE DYE HOUSE IS LOCATED IN A DESERT CLIMATE WATER IS USED VERY SPARINGLY AND AS MUCH AS POSSIBLE IS RECYCLED. THE MANY HOURS OF SUNSHINE RESULT IN AN ABUNDANT SUPPLY OF SOLAR POWER AND AS LITTLE AS POSSIBLE ELECTRICITY IS USED.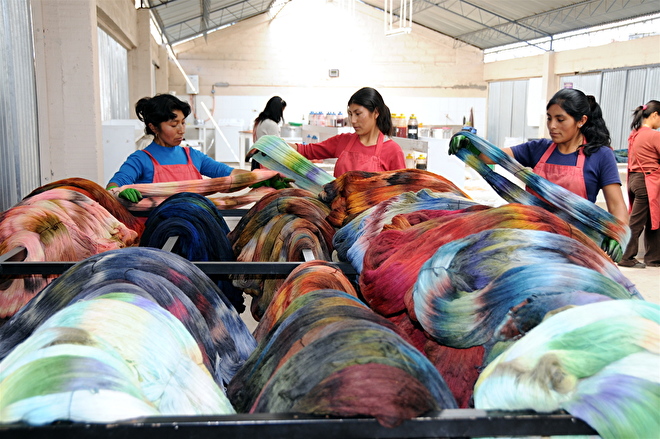 FAIR TRADE CERTIFIED
OUR DYE HOUSE HAS BEEN A FAIR TRADE CERTIFIED COMPANY SINCE 2013. THEY OBTAINED THEIR FAIR TRADE CERFITICATION BY PARTICIPATING FOR THREE YEARS IN A GOVERNMENT SPONSORED INTERNATIONAL PROGRAM. THEIR FAIR TRADE CERTIFICATION ENSURES FAIR TRADE WAGES, CONTINUING EDUCATION OPPORTUNITIES, MEDICAL CARE AND A SAFE AND BEAUTIFUL WORK ENVIRONMENT FOR ALL.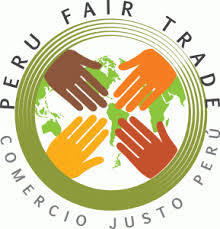 SUPPORT OF LOCAL ECONOMY
APPROXIMATELY 70% OF THE ALPACA FIBER PRODUCED IN PERU COMES FROM VERY SMALL FARMS. THESE FAMILY OWNED FARMS PRACTICE A TRADITIONAL BREEDING SYSTEM THAT HAS BEEN PASSED ON FROM FATHER TO SON. ALPACA FLEECE PRODUCTION FORMS A KEY COMPONENT OF THE PERUVIAN ECONOMY PROVIDING AN INCOME TO OVER 65,000 RURAL FAMILIES.
SCAAPI COLLABORATED WITH DDID IN SOURCING A FAIR TRADE SUPPLIER.
ECO DESIGN AGENCY DDID - DUTCH DESIGN IN DEVELOPMENT.

DDID IS THE AGENCY FOR ECO DESIGN, SUSTAINABLE PRODUCTION AND FAIR TRADE. WE WORK WITH DUTCH IMPORTERS AND DESIGNERS AND CONNECT THEM TO LOCAL PRODUCERS IN DEVELOPING COUNTRIES, EUROPE AND EMERGING MARKETS. TOGETHER PRODUCTS ARE MADE THAT ARE BOTH PROFITABLE AND SOCIALLY AND ENVIRONMENTALLY SUSTAINABLE.